These Creamy Deviled Eggs are a bold twist to a traditional favorite. Quick and easy to prepare, they make the perfect appetizer! Recipe serves 6.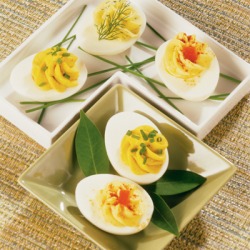 Ingredients
12 hard-boiled eggs, peeled
⅓ cup Lowfat 2% Milk
3½ tablespoons Kraft® chipotle mayonnaise
2 teaspoons Honey Dijon Mustard
¼ teaspoon salt
½ teaspoon paprika
Basil leaves (optional)
Directions
Cut each hard-boiled egg in half and cleanly scoop out the yolks. Place the yolks in a medium-sized bowl.
Mash the yolks with a fork or pastry blender. Add milk, mayonnaise, and mustard.
Stir until the mixture is creamy and settled. Season with salt and paprika.
Spoon the mixture into each egg white. Decorate with basil leaves.
Nutrition Information
Nutrition
Info*
Amount Per Serving
Calories 100
Calories from Fat: 60
Total Fat: 7g
11% of DV
Saturated Fat: 2g
10% of DV
Cholesterol 215mg
71% of DV
Sodium: 180mg
7% of DV
Total Carbohydrates: 1g
0% of DV
Dietary Fiber: 0g
0% of DV
Sugars: 1g
0% of DV
Protein: 7g
0% of DV
*% Daily Values are based on a 2,000 calorie diet.